GORODISSKY & PARTNERS
INTELLECTUAL PROPERTY
& TMT LAW
11 IP attorneys of Gorodissky & Partners became the first Eurasian design attorneys
2 June 2021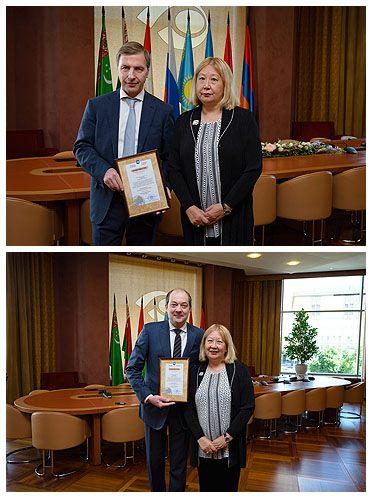 11 IP attorneys of Gorodissky & Partners were first in a raw certified as Eurasian design attorneys. On June 2, 2021, President of the Eurasian Patent Office Saule Tlevlesova awarded them with the relevant Certificates.
Certificate No. 1 was presented to Valery Medvedev, Managing Partner with Gorodissky & Partners. Certificate No. 2 was handed to Yury Kuznetsov, Partner, Head of the Patent Practice with Gorodissky & Partners.
Let us remind, from June 1, 2021, the EAPO began accepting applications for granting Eurasian patents for industrial designs. At present, the states parties to the Protocol are the Kyrgyz Republic, the Republic of Azerbaijan, the Republic of Armenia, the Russian Federation and the Republic of Kazakhstan.
Back