GORODISSKY & PARTNERS
INTELLECTUAL PROPERTY
& TMT PRACTICE
Lexology webinar "Russian Data Localization Law: Ensuring Compliance of Online Services & IT Systems"
17 June 2020
Stanislav Rumyantsev, Ph.D., CIPP/E, Senior Lawyer (Gorodissky & Partners, Moscow) spoke at a Lexology webinar.
The event addressed practical compliance issues arising out of the personal data localization requirement. Stanislav presented several cases explaining how to organize personal data processing. Stanislav offered an answer to the main question of the event: how to achieve and demonstrate legal compliance in various business scenarios.
The attendants expressed their interest. The webinar ended with a Q&A session.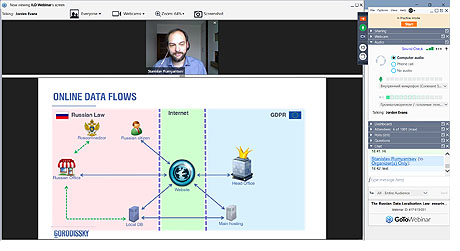 Back