GORODISSKY & PARTNERS
INTELLECTUAL PROPERTY
& TMT PRACTICE
Seminar "IP importance in doing business" in Samara
18 April 2019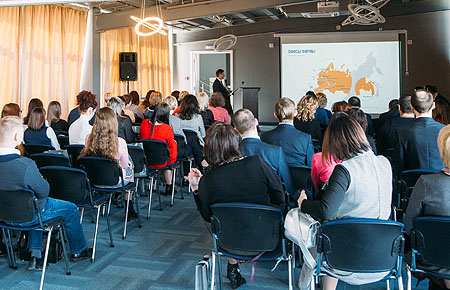 Leading specialists - Valery Medvedev, Managing Partner, Russian & Eurasian Patent Attorney, Trademark Attorney, Vladimir Bashkirov, Russian Patent Attorney, Maxim Gorbachev, Russian & Eurasian Patent Attorney, Ilya Goryachev, Senior Lawyer, Valery Narezhny, Ph.D., Counsel, Stanislav Rumyantsev, Ph.D., CIPP/E, Senior Lawyer (all from Gorodissky & Partners, Moscow), Tatyana Korovina, Trademark Attorney, Regional Director, Dmitriy Semihvostov, Lawyer (both from Gorodissky & Partners, Samara), spoke at the third Seminar from the series dedicated to the Gorodissky & Partners 60th anniversary "IP importance in doing business".
The event was attended by 60 participants - representatives of small and medium business, industrial, commercial, service companies, business development consultants, lawyers, patent and trademark attorneys, marketing and advertising specialists, brand managers, and ended with a festive reception and musical congratulations from the client of the company - the Sinyaya Ptitsa band.
The Seminar took place in the frames of Gorodissky IP School the firm's educational project.
Back