GORODISSKY & PARTNERS
INTELLECTUAL PROPERTY
& TMT PRACTICE
Seminar "Legal aspects of export"
2 October 2019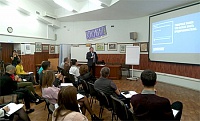 Valery Lyzhin, Trademark attorney (Gorodissky & Partners, Moscow), Galina Lebedeva, Patent attorney, Regional Director (Gorodissky&Partners, Ufa), made presentations "Trademarks. What an entrepreneur should know" and "Protected intellectual property and individualization means" at the seminar "Legal aspects of export" which was organized by the Export Support Centre of Bashkortostan Republic in Ufa.
At the seminar, the following issues were highlighted: basic international legal acts regulating foreign trade; aspects of private international law applicable to the preparation and conclusion of a foreign trade contract; also the speakers told about types of intellectual property and measures to protect them when entering international markets.
The seminar was attended by representatives of 17 companies, among which were representatives of small and medium-sized enterprises, including managers, employees of exporting enterprises and organizations planning to begin activities in this direction.
Back