GORODISSKY & PARTNERS
INTELLECTUAL PROPERTY
& TMT PRACTICE
Venture Capital: How to Build a Business on Intellectual Products
18 June 2020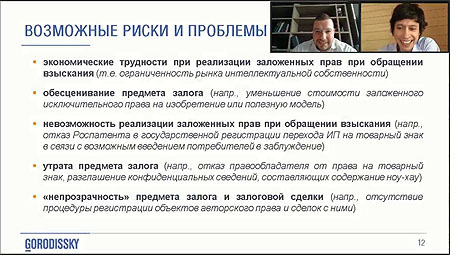 LES Russia in conjunction with ICC Russia and Gorodissky & Partners firm held the webinar "Venture Capital: How to Build a Business on Intellectual Property".

Sergey Medvedev, Ph.D., LL.M., Partner, and Sergey Vasiliev, Ph.D., Partner (both from Gorodissky & Partners, Moscow), made the following presentations: "Securing financial transactions with a pledge of intellectual property" and "Intellectual Assets Audit: Methods and Recommendations".

Among the speakers also were: Natalia Polyakova, Ph.D., Director of Legal with JSC Russian Venture Company; Alexey Sergeev, Ph.D., Director of Corporate Valuation and Consulting, Financial and Economic Forensic Expert with Swiss Appraisal, Veronika Fridman, Ph.D., Counsel with Gowling WLG. The webinar was moderated by Natalia Karpova, Ph.D., Professor, Chair in RANEPA under the President of the Russian Federation, Vice President of LES Russia.
The webinar aroused keen interest and attracted an impressive audience.
Back