GORODISSKY & PARTNERS
INTELLECTUAL PROPERTY
& TMT LAW
XII IP FORUM. Russia & CIS
1 April - 2 April 2021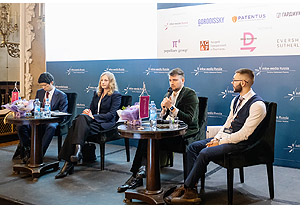 Sergey Vasiliev, PhD, Partner, Dmitry Rusakov, Head of Brand Protection Group, and Valery Narezhny, PhD, Counsel (all from Gorodissky & Partners, Moscow), took part in the XII IP FORUM. Russia & CIS.

Sergey Vasiliev moderated the session "Protection of rights to RIA on the Internet" at which Dmitry Rusakov made a presentation "The practice of identifying and eliminating violations of your rights on the Internet: technologies and recommendations".

Valery Narezhny presented his report "The practice of protection against unfair competition on the Internet" at the session "Protection against unfair competition and cooperation with the Federal Antimonopoly Service".

Law Firm "Gorodissky and Partners" acted as the General Partner of the "XXII IP Forum. Russia & CIS", annually organized by Infor-Media Russia.
Photos by Infor-Media Russia
Back