GORODISSKY & PARTNERS
INTELLECTUAL PROPERTY
& TMT PRACTICE
About us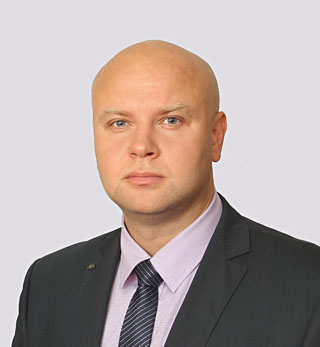 Denis Titov
Regional Director

Novosibirsk
send message
Education

Novosibirsk Military Institute of the Internal Troops (1996-2001)
Siberian Institute of Management (2006-2009)
Chamber of forensic experts named after Y.G. Korukhov (2017)

Membership

Chamber of forensic experts named after Y.G. Korukhov

Experience

Russian military service (2001-2009)
Siberian Customs (2009-2013)
"Medcom-mp" (2013-2015)
"Reckitt Benckiser IP" (2015-2017)
Gorodissky and Partners since 2017

Languages

Russian
Chinese
English
French
IP rights protection
Deals with IP objects
Legal representation and dispute resolutions
Agreements on exclusive rights on IP objects
Examination of disputable designations' similarity degree
Consulting on IPR legal protection

Membership

Chamber of forensic experts named after Y.G. Korukhov
Presentations
"Counterfeiting measures in large companies. Actions to prevent counterfeiting and work with the consequences of smuggling products" (Seminar "Novosibirsk customs and lawyers", Novosibirsk, October 2019)
"Actual issues of protection of PRADA and GUCCI rightholders" (Seminar "Organization of cooperation with rightholders on protection of rights to IP objects within the framework of mobile groups work", Samara, April 2018)
Represented a large English company in anti-counterfeiting case in the first instance, appeal and cassation courts; as a result counterfeit products were destroyed and infringers were fined.
Represented large international companies in cases against parallel importers.
Assisted in recording of IP of foreign companies in the Customs Register and represented the companies in administrative court cases.